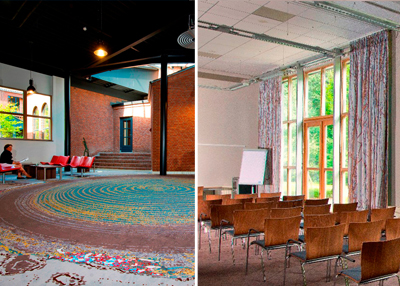 The Lean Kanban Benelux will take place at Kapellerput Conference Hotel. It is located in one of the loveliest parts of Heeze in Brabant (the Netherlands) and is a unique place surrounded by art and colour, you'll experience true tranquility here in this magnificent environment rich in forests and waterways to formulate ideas, share expertise and find solutions. The peace and quiet required to facilitate optimum results.
Unfortunately Kapellerput Hotel is fully booked on the night November 3-4. If you need a bedroom there is a NH in Geldrop. It is situated 13 minuets away with car from Kapellerput Conference Hotel.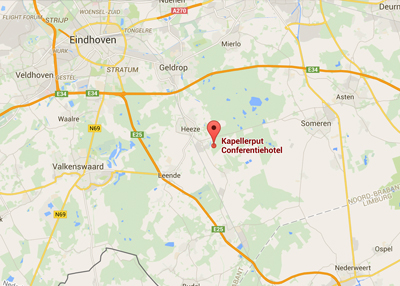 The Lean Kanban Benelux event is located with reachable distances from different airports and train stations. See here below which alternative works best for you.
Somerenseweg 100 – 5591
TN Heeze (NL)
T+31 40 224 19 22
Travelling by car
Note that if you come by car and you haven't been around Eindhoven for a while, do not use your navigation tooling. The Eindhoven ring has changed dramatically (and may still be subject to more changes). Coming from Den Bosch, Tilburg or Antwerp go to direction Venlo (A67) and take exit 34 Geldrop or go to direction Maastricht (A2) and take exit 34 Valkenswaard. The conference venue has free parking.
Travelling by public transport
(see also http://journeyplanner.9292.nl)
Heeze has it"s own trainstation. It is the second station on the slow train from Eindhoven in direction of Sittard / Maastricht / Heerlen. The train leaves at Eindhoven every half hour at XX:04 and XX:34 and takes 10 minutes to get to Heeze.
From Heeze station you can take the buurtbus (neighbourhood-bus) 466 to Deurne, which stops right in from of the impressive drive of the Kapellerput.
Taxi from Heeze train station? Note that the station is small and no taxis are waiting outside the station. You can call and pre-book a taxi on +31 40 842 3333 (Unitax). The journey costs about €14.
From Eindhoven Airport
Take bus 401 to Eindhoven Station. And use the information above to get to Heeze. Note that the trip is only about 17km and will take you over an hour to get you there.
A Taxi will take you there in 30 minutes. It'll cost about 45 to 50 Euros. The taxi companies have minivans available but they need to know upfront.
From Rotterdam Airport
Take Stadsbus (citybus) 33 to Rotterdam Central Station and then the Intercity train to Venlo. Exit at Eindhoven and use the information above to get to Heeze.
The trip will take a bout 2,5 hours.
From Amsterdam Schiphol airport
Schiphol has its own trainstation.
At xx:42 you can take a direct Intercity to Eindhoven.
At xx:27 (fastest) you can take a train to Nijmegen, change at Utrecht Central Station, take the train to Heerlen from there and exit at Eindhoven. In Utrecht your train should usually leave right across your plaftorm.
Use the information above to get to Heeze. The trip will take about 2 hours.
From Belgium
Check out the travel options from Belgian railway stations. Eindhoven can be reached via Dordrecht (from Antwerp/Gent) or Maastricht (from Brussels).
From France
The Thalys takes you from Paris to Rotterdam. From Rotterdam Central Station you take the train to Venlo.
Drink Reception
Connect with other enthusiasts of Kanban, Agile, and innovation. Build a network of experts that will benefit you all year. See you at the social reception at the end of the day.